Things to do after the Alternative Fushimi Inari Walking Tour
The Alternative Fushimi Inari Walking Tour ends between 12:30pm-1pm depending on the pace of the participants on the tour. Our finish point is Tofukuji Station, which has both the JR lines and the private Keihan line that goes up into Kyoto city. Here are some suggestions about what you can do after the tour if you want to steer clear of the crowds.
First things first: Have lunch
The area around Tofukuji Station is home to about a dozen restaurants, all small businesses run by locals. There's a Family Mart you can grab lunch from if you need to rush off, but why rush when they are these options?
Stamina Ramen
Our top recommendation: Daikoku Ramen. They serve just one kind of ramen here: Stamina Ramen. For the ridiculously low price of ¥500 you'll get ramen in pork broth lovingly boiled for hours before opening time. For ¥200 more, you'll get 6 pieces of pork gyoza on the side. And we'll give out coupons for the ramen after the tour, so you'll get ¥100 off your noodles. Daikoku serves beer too (¥500), great for summer days. Closed Mondays.
Kyozushi
Everyone knows what Edo-style sushi looks like - raw fish on rice. Kyoto-style sushi is normally cooked fish pressed on rice or wrapped in kombu seaweed. Idzumatsu does a moriawase which has both the Edo and Kyoto styles on one plate for ¥1,500. The chef is also very willing to swap out all the fish for pickles if you're with a vegan companion (making this a very rare and accommodating sushi restaurant). Closed Thursdays.
Omelette rice
Little Dragon, a little further down from the station, serves one of the best omelette rice in town - ¥1,100. You'll find little chunks of bamboo shoots in the rice, and the egg that envelopes it all is doused in delicious gravy. Served with salad. They also do set lunches for ¥800. Open daily.
Blue cheese burger
You'd be surprised, but some of the best burgers in Japan are to be found right here at Tofukuji. Behold: Dragon Burger. The Japanese-style yuzu-kosho burger featuring Kyoto's shogoin turnips is zesty, the cacao burger with its chocolate & barbecue sauce intriguingly good, but our favourite has to be the super-savory blue cheese burger. Set lunches between ¥1,400-¥1,800. Open daily.
Tonkatsu (pork cutlet) set lunch
Cross the railway crossings to find Fujito, run by an elderly couple. They make very crispy, juicy pork cutlets. If you like juicy cuts, go for the fillets (hire katsu) - ¥850). For melt-in-your mouth pork, splurge on the tokujou katsu - ¥,1100. No English here, but you'll be able to order if you say "hire katsu", or "tokujou katsu". Served with a heaping of sliced cabbage and a bowl of rice on the side. Closed Fridays and Saturdays.
Sukiyaki udon
If you're not too hungry, have the sukiyaki udon at Shinbou. For ¥800 you get al-dente udon noodles, a plate of thinly-sliced beef in soy sauce and dashi stock, as well as an raw egg. Stir up the egg, pour it onto the beef, and pour all that over your udon for sukiyaki udon. The portions here will fill you but they are not large. The elderly couple here also serves cold soba, perfect for hot days. Closed Tuesdays.
White miso ice cream
Hana Ice is a tiny soft-serve ice cream shop run by Hana, the only person in Kyoto making white miso ice cream. She makes it everyday with just soybean milk and her own special blend of white miso from some of Kyoto's oldest miso makers. She doesn't add sugar to her ice cream (she doesn't have to; the rice in the white miso brings out the sweetness of the soybeans). ¥380 for a cone. Open all year.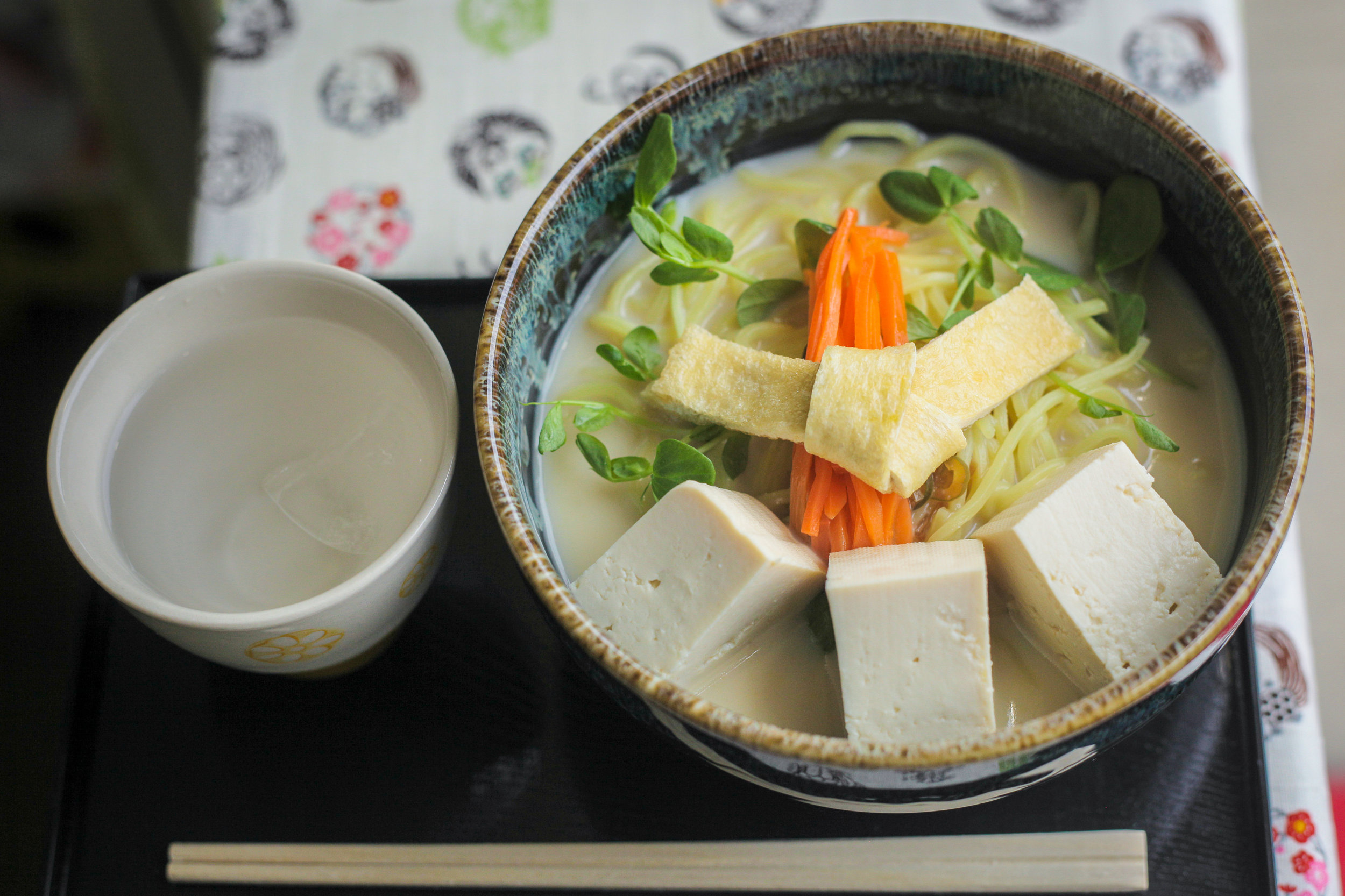 Hana-san's agreed to make her homemade tofu ramen or udon noodles just for Craft Tabby guests. Her broth is vegan-friendly because she uses only kombu seaweed and soybean milk, and she tops the noodles with seasonal vegetables and fresh tofu from a local tofu maker. The noodles are served cold in the summer and piping hot in the cooler months. ¥1,200, comes with soft serve ice cream after. Hana-san can only serve up to 3 persons per day. Let us know at least 1-2 days beforehand so that she can shop for ingredients.
Guests before you liked this best:
Daitokuji Temple & a 1000-year-old mochi shop
Our guests say they found this the most rewarding thing to do after visiting Fushimi Inari with us. If you don't mind a 1 hour journey, take the Keihan line to Demachiyanagi then bus 1 to Daitokujimae Bus Stop. You'll be rewarded with a temple complex almost as large as Tofukuji but it'll be even quieter there.
Make your way to Zuiho-in Temple first (¥400 to enter). Shigemori Mirei designed the gardens there in 1961. One of the gardens features a hidden cross, in reference to the founder of the temple, who had converted to Catholicism.
Also visit Daisen-in Temple (¥400), which houses a Muromachi period (14th to 16th century) dry landscape garden that inspired the creator of the tea ceremony, Sen-no-Rikyu, as well as Shigemori Mirei himself. There are very good English descriptions of all the rock formations on the information board that the temple staff can loan out to you for free.
Then walk to the back of the temple, where you will find Imamiya Shrine (free entry). Just before the entrance will be two aburimochi shops serving grilled mochi coated in soybean flour (¥500 for 5 sticks and tea). Ichiwa (closed Wednesdays), the one on the northern side, has been around since 1002. Take a seat next to the rock garden, said to have been built by Kobori Enshu (1579-1647), a master of the tea ceremony and a renown garden designer.
For a 3.5-hour self-guided itinerary of the area, take the Zen Out Peace Out Walk.
If your feet can't take it any longer: The Imperial Palace and traditional sweets at a 400-year-old establishment
This is the second most popular thing to do. We walk about 4 kilometres (2.5 miles), which is not too long but we do go up and down, so do this if you want to relax after Fushimi Inari.
Take the JR Nara line to Kyoto Station, then hop on the subway to Imadegawa Station. Explore the Imperial Palace first (free entry, closed Mondays, enter through the Seishomon Gate, reservations not required, see below for closing times).
Last admission for the palace
January-February: 15:20
March: 15:50
April-August: 16:20
September: 15:50
October-December: 15:20
Afterwards, enjoy tea and sweets at Toraya Karyo Ichijo. Toraya itself has been around since the 1600s, and they used to supply only to the Emperor. These days anyone can sip tea and enjoy their seasonal sweets all while overlooking a view of an Inari shrine and a historic storehouse across a beautiful lawn.
Back at Tofukuji to discover more of Shigemori Mirei's works
We passed by Tofukuji Temple's main complex on the way to the station, but after lunch you might want to head back to explore the area further.
Visit Kyoto's oldest Zen garden at Funda-in Temple (¥400 admission fee) to try to make out the turtle and the crane in the rock formation there. Don't forget to take a closer look at the sliding doors. The paintings in this 698-year-old temple (as of 2019) are all well over 300 years old.
Then view Shigemori Mirei's masterpiece at Tofukuji's Honbo (¥400, be sure to view the gardens in a clockwise manner), and walk back in the direction of Komyo-in Temple to stop by to have coffee or tea Chikujousou, a 100-year-old home of a local painter whose grandson still runs tea ceremonies, flower arrangement, and painting classes there.
Visit another quiet garden just 15 minutes away….
Walk 15 minutes (or take a short taxi ride that won't cost you more than ¥1000) to Unryu-in Temple (¥400 admission fee, ¥900 if you want a serving of matcha tea). The entrance to this place is hard to find, but don't give up! Just turn on GPS and you'll get there. Once inside, you'll find a haven few tourists ever find themselves at. This temple is renown for its sutra-copying room, which emperors have used for generations, but also its restive garden. Be sure to find the bamboo poles where you can hear the resonant sound of dripping water, and don't leave without having seen the statue of Daikoku in the kitchen (the god of the kitchen; if you had ramen at Daikoku ramen, yes, this is the same Daikoku the ramen shop was named after).
Just 5 minutes down the hill is the 800-year-old Sennyu-ji Temple (¥500), which also has a garden rarely frequented by tourists. If you have time after that, also see Imakumano Kannonji Temple (free admission), where you can do a virtual pilgrimage of the Kumano Kodo pilgrimage trail that we talked about during the walking tour. If it's autumn foliage season (late November to early December), make a beeline for this temple first before going to the other two.
Taste sake at Fushimi's brewery district
If you'd like a taste of the sake made from the water that flows down from Fushimi Inari, take the Keihan line 7 stops down south towards Chushojima Station. Don't miss out the canal especially if it's sakura season. Jikkokubune boats will be plying the river during that season. The main attraction here is the Gekkeikan Okura Sake Museum (¥400 admission fee, 5 minutes from the station. While the museum is not a working brewery, there's a well with fresh spring water the Gekkeikan brewery used to make sake with. The exhibits have clearly translated signs that show you how sake was traditionally made in the area. There's a free tasting at the end of the exhibition.
Have chicken skin gyoza and local chicken yakitori at Torisei.
Then try out more Fushimi sake at Aburacho (closed Tuesday, closes daily at 9pm), which has flights of sake going at ¥150-¥800 per cup depending on the quality of the sake. They have the widest selection of sake you can try in town — between 80-90 bottles are open for tasting at any one time. Don't miss out on the sake that comes in a bamboo vessel.